We're relocating our website to a new domain: ANDROIDMO.IM. Please remember to bookmark the new address to stay connected.
Gboard - a convenient and functional keyboard for Android
Gboard is a keyboard developed by Google. Gboard has many features that make it convenient to use. For example, it allows users to quickly and easily enter text using voice commands or gestures. In addition, Gboard has a built-in translator that can translate text into various languages.
If you can't enter the character's name in the game, then you need to
download the Gboard
keyboard and install it. Then launch the Gboard application and use the prompts to make the necessary settings. After you finish setting up the keyboard, restart the game where you couldn't enter the name and try again.
The entered name in the game does not apply
If you can't apply the entered name using the on-screen Gboard keyboard in the game, then try the following:
Use Gboard to enter the desired character name (indicated by the number 1 in the picture).

From the words suggested at the top of the on-screen keyboard, choose the one that suits you best (indicated by the number 2 in the picture).

Click on the button in the form of an arrow - apply (indicated by the number 3 in the picture).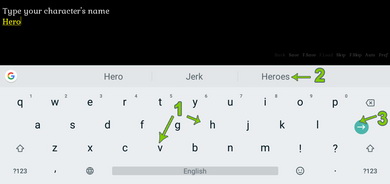 Attention!
If after all you have done, you failed to apply the name of the character, then do it all again, starting from point 2. Do this until you succeed!